What are Warps?
Warps allow everyone on a server to instantly teleport to a specific place within a world on any of the servers. They work just like homes (/sethome), but everyone has access to the warps, and they are cross-server! We are very excited to have our own custom warp system that allows players to easily apply for their own warp wherever they want and maintain their warp (the name, description, and icon) on their own! This lets you easily promote your town, shop, xp-farm, or just about anything else on the server.
All warps are seperated in categories so it's easy to find the category of warp you're looking for. By default you will only see the warps on the server you're on. But you can select any, or all, servers in the GUI that you'd like to view the warps for!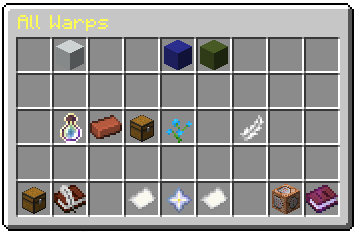 Applying for a Warp
Once you've built something that you want to share, and made sure that it meets the "Warp Requirements", you can apply for a warp in-game! Applying is easy, just do /warps apply and follow the prompts.
The application process will ask you for a name, description, icon, category, and location for your warp. Before beginning the application process, be sure you are standing where you want the warp to be! Make sure you are also facing the direction you want players to face when they teleport to your warp. Don't look at the ground! Your warp name must be under 30 characters and your description must be under 120. Do not use any color codes. When it asks for the item you want to have as an icon, simply hold the desired item in your hand.
Attention: Warps cost $5000. If your application is denied, you will be refunded half of this cost ($2,500). To continue, type continue, or to cancel, type cancel. However, if your warp is approved, but you fail to maintain it, your warp will be deleted without a refund!
Warps that are in the end dimension get removed monthly when the end get's reset. This means you would need to remake, and reapply monthly. These warps get fully refunded when removed.
Warp Requirements
You need to be the owner of the claim your warp is placed in. It should look good, and be as finished as your warp type allows you to have it. Safety is an important aspect as well, visitors should not be accidently dying by falling in dangerous area's or having mobs spawn on them. Phantoms are an exception to this rule as you can't easily prevent those spawns.
It should be easy for players to find where they want to go. You can accomplish this through signs or by designing it in such a way that players can see their destination when they warp in. Your warp's claim border should be 500 blocks away from any other warp's claim border, and two warps can not lead to the same area. We encourage making it possible for players to leave the warp, either by walking or elytra use, so that they can use it as a starting point for exploring as well.
If you have any farms in the area of your warp that players don't benefit from through your warp it should not be possible for players to load those farms during regular use. We don't want players being used as chunkloaders.
Towns
Any warp that is designed to house other players
It should be clear how to navigate the town and how to get a plot
Your town should be in one claim, and divided with subclaims
You need to be active enough to regularly assign players new plots
Your town must have an active community both before applying and while it's a warp. (Minimum 3 active players other than you)
Shops
Any warp that sells/trades/buys items using shops. This includes malls as well
It should be clear where to go to find the items that are being sold from the warp spawn point
Your shops should sell items players want
Your prices should be competitive with spawn and other warps
You are responsible for keeping stock up. Staff will regularly check random shops within your warp, if they find understocked shops they will issue warnings for it and eventually remove it. This counts for mall owners as well!
General stock requirements
Easily obtainable items such as concrete: full chest
Hard to obtain, common items such as diamonds: 1 stack
Hard to obtain, uncommon items such as netherite/beacons: 16
Maps: 16 for 1x1, 8 for anything over 1x1 up to 2x2, and 4 for anything over 2x2
XP Farms
Any warps that give XP
It should be easy to find where to go and how to use the farm
Players should have access to the drops either through shops with competitive prices, or for free
XP farms should not attempt to bypass our anti lag systems
Kill chambers should be 1x1 or 1x2, exceptions to this rule are listed below
There can be only 1 types of each xp farm per server, the exception to this is guardian farms (there can be 3) as they are the most commonly used farm type.
Kill chamber size exceptions
Magma kill chamber may be up to 3x3
Hoglin kill chamber may be up to 2x2
Ravagers during pillager raids must be killed automatically and the kill chamber should still be 2x1 for the rest of the mobs
Other
Any warp that doesn't fit in the other categories can go in here
For warps designed as a nice looking hang out, the build needs to be unique and look exceptional
Warps designed for player events need to look aesthetically pleasing and accommodate a large amount of players
Portals warps need to be the only one of it's kind on the server
Villager trading area's have their villagers on no AI blocks and be named public for public accessibility
Maintaining a Warp
We've made it easy for you to maintain your warp on your own. As the warp owner you can change the name, description, and icon anytime. There is no charge for modifying a warp. To access the GUI to manage your warp, just do /warps and click on the chest labeled "My Warps" in the bottom left corner.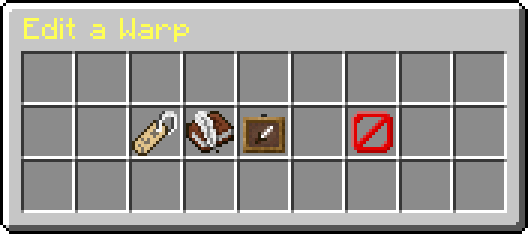 Maintaining a warp also involves making sure it looks nice, shops are well stocked, and, if it's a town, open plots are always available for residents to move in. Make sure you keep up on maintaining your warp or it could be deleted! If a warp is deleted by a staff member you will not receive a refund for the creation cost.
Warp Notes
- If a new warp application has improvements or additional, useful features that a current warp lacks, the current warp may be replaced with the new one. For example, if a server has a single-spawner spider farm that offers drops at a certain price, and a warp application is submitted for a spider farm with multiple spawners and offers free drops, the new warp is likely to be favored.
- Warps that are malls (primarily focused on having many shop plots for many players) are limited to 3 per server.
- Smaller shop warps are limited to 1 shop per type. For example, only 1 warp for redstone-related shops.
Useful Commands
/warps -

Open a GUI showing all warps

/warps apply -

Apply for your own warp